Online stores
I remember those times, when online stores appeared. They seemed like an amusement at that time. Nevertheless, people gradually noticed benefits of online shopping: it is possible to visit many shops and don't go anywhere, so save time. In online shops the choice is bigger. A buyer can find the lowest prise on the market, and in the same time has guaranties of money back in case of problems with the purchase.
Appreciable advantages are also for e-store owners. Investments are considerably lower to start an e-store. It is possible to send purchases by post even to the smallest settlements. All shopping operations are recorded into database, so an owner can accurately plan future sales, and more precisely order goods from a manufacturer or a distributor.
From the time when e-stores appeared and till present days online sales are constantly increasing. In the USA from 2012 to 2016 online shopping market grew twice, and in 2016 had 11.7% from all retail sales.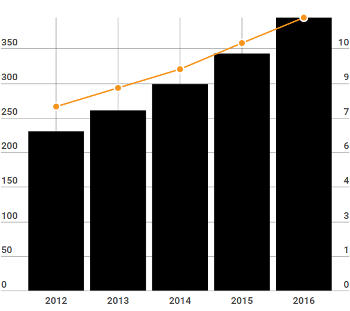 ◼ online sales in USA, billion dollars
● share from all retail sales
So what actually is an e-store? It is a computer program, that works in computer, which is constantly turned on and connected to the internet. Such computer is called Server. The computer program should be developed to start new e-store. Most online stores have similar basic functions, such as goods catalogue, cart, user registration, order status, discounts etc. Therefore pre-existing platforms are used to create basis of an e-store. Those pre-existing platforms are computer programs for online shopping, that already contain implementation of various basic functions. A pre-existing platform is installed to the server, and then is altered by a programmer according to the e-store owner requirements. And as the result an owner gets his unique online store.
I am the professional web programmer and can create or modify e-shops based on WooCommerce&Wordpress or Opencart platforms. Contact with me and I will give you a free consultation about e-store creation or altering. Just click here.